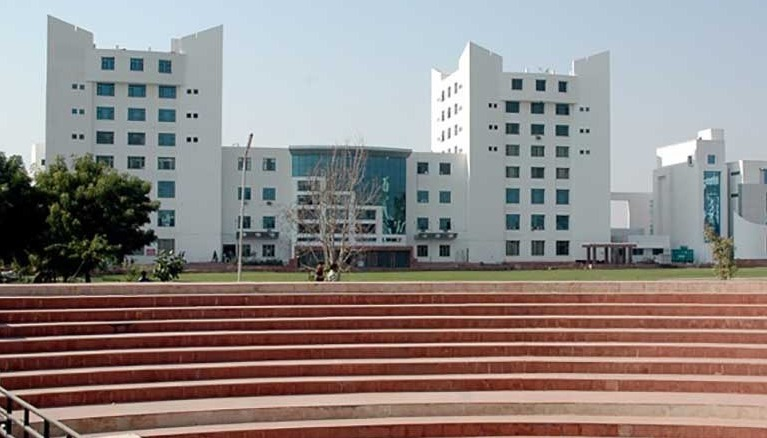 About Gyan Vihar The eternal quest for knowledge that shall enlighten us and free us from all biases, preoccupations, fixations, obsessions and unhealthy concerns, should be the one and only objective of human civilization.
Suresh Gyan Vihar University is a private University situated in Jaipur, Rajasthan, India. The University has been awarded an 'A' grade by National Assessment and Accreditation Council (NAAC). It is the first private university in Jaipur to receive accreditation from the NBA. Gyan Vihar is one of the leading and best universities in Jaipur. The University offers various courses in multiple streams such as Engineering, Management, Law, Commerce, etc.The University offers a high tech campus to the students studying here. There are several reasons to consider Gyan Vihar University for Higher Studies.
Gyan Vihar's Campus is connected to the University Head Office, Jaipur through VPN Network, allowing everyone to communicate Live Class Rooms through e-Learning Solution and IP Cameras to all locations. Full campus is Wi-Fi access for internet browsing.
Programs
Courses offered by Suresh Gyan Vihar University 
The University Offers a string of courses which are mentioned below:
UG Programmes
B.Sc. Hons. (Agriculture)
BBA in Business Analytics
B.Tech in Agriculture Engineering
B.Sc in Geology
B.Sc in Hospitality & Hotel Administration
BHMCT
B.Sc (PCM)
B.Sc (CBZ)
 BBA Finance and Banking
BBA in Human Resource 
BCA
B.A (BJMC)
B. A. in Psychology and Anthropology
B.Tech. Mechanical Engineering
B.Tech Civil Engineering
B.Tech. Electrical Engineering
B.Tech Electronics & Communication Engineering(IoT and Smart Cities Powered by IBM)
Bachelor of Education (B. Ed.)
Bachelor of Physiotherapy
Bachelor of Pharmacy
B. Sc (Biotechnology)
BSc-IT Powered by Google
BBA in Digital Marketing Powered by Google
BBA LL.B. (HONS.)
B.Tech CSE with Data Analytics (Powered by IBM)
B.Tech CSE with Artificial Intelligence & Machine Learning(Powered by IBM)
B.Sc. (Molecular Biology & Genetics)
B.Sc (Biomedical Science)
B. Sc. (Forensic Science)
B. Sc. (Virology & Immunology)
PG Programmes:
M. Sc. (Ag) Agronomy
M. Sc. Geoinformatics
M. Tech. Geoinformatics
M.Sc (Chemistry)
M. Sc. (Physics)
M. Sc. (Biotechnology)
M. Sc. (Microbiology)
MBA in Finance & Banking (Powered by BSE)
MBA in Business Analytics Powered by IBM
MCA Powered by Amazon
M.SC (IT)/M. Sc. Powered by Amazon
M. Tech in Energy Engineering
M.Tech. Manufacturing & Industrial Engineering
M. Tech Construction Engineering and Management
M.Tech. Power System Engineering
MBA in Human Resource Management
M.Sc. Pharmacology
M.A Psychology
Master of Education (M.Ed.)
Executive Research Program in SDGs
M.Tech (Software Engineering)
M.Tech DWCE (Digital Wireless Communication Engineering)
M. Sc. (Virology & Immunology)

University Name
Suresh Gyan Vihar University - [SGVU], Jaipur Rajasthan
College Status
Recognized
Website
https://www.gyanvihar.org