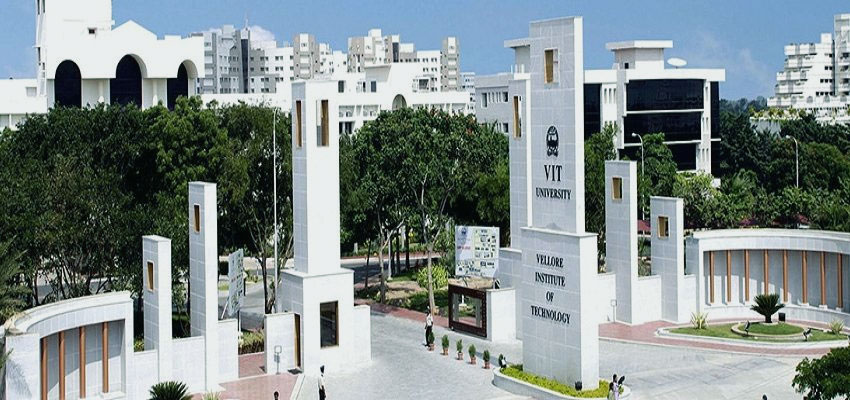 Vellore Institute of Technology is a private deemed university located in Vellore, India. Founded in 1984, as Vellore Engineering College, by G. Viswanathan, the institution offers 54 Undergraduate, 34 Postgraduate, 9 Integrated, 2 Research and 2 M.Tech Industrial Programmes.
VIT was established with the aim of providing quality higher education on par with international standards. It persistently seeks and adopts innovative methods to improve the quality of higher education on a consistent basis.The campus has a cosmopolitan atmosphere with students from all corners of the globe. Experienced and learned teachers are strongly encouraged to nurture the students. The global standards set at VIT in the field of teaching and research spur us on in our relentless pursuit of excellence. In fact, it has become a way of life for us. The highly motivated youngsters on the campus are a constant source of pride. Our Memoranda of Understanding with various international universities are our major strength. They provide for an exchange of students and faculty and encourage joint research projects for the mutual benefit of these universities. Many of our students, who pursue their research projects in foreign universities, bring high quality to their work and esteem to India and have done us proud. With steady steps, we continue our march forward. We look forward to meeting you here at VIT.
It was established under Section 3 of the University Grants Commission (UGC) Act, 1956, and was founded in 1984 as a self-financing institution called the Vellore Engineering College. The Union Ministry of Human Resources Development conferred University status on Vellore Engineering College in 2001. The University is headed by its founder and Chancellor, Dr. G. Viswanathan, a former Parliamentarian and Minister in the Tamil Nadu Government. In recognition of his service to India in offering world class education, he was conferred an honorary doctorate by the West Virginia University, USA. Mr.Sankar Viswanathan, Dr.Sekar Viswanathan and Mr.G.V. Selvam are the Vice-Presidents; Dr. Rambabu Kodali is the Vice-Chancellor and Dr. S. Narayanan is the Pro-Vice-Chancellor.
Vision:
Transforming life through excellence in education and research.
Mission:
World class Education: Excellence in education, grounded in ethics and critical thinking, for improvement of life. Cutting edge Research: An innovation ecosystem to extend knowledge and solve critical problems. Impactful People: Happy, accountable, caring and effective workforce and students. Rewarding Co-creations: Active collaboration with national & international industries & universities for productivity and economic development. Service to Society: Service to the region and world through knowledge and compassion.
Programmes Offered
Degree
Programmes
 
 
M.Sc
M.Sc. Chemistry
 
 
M.Sc
M.Sc. Physics
 
 
M.Sc
M.Sc. Data Science
 
 
M.Sc
M.Sc. Computational Statistics and Data Analytics – Integrated 5 year
 
 
B.Tech
B.Tech. Biotechnology
 
 
M.Sc
M.Sc. Applied Microbiology
 
 
M.Sc
M.Sc. Biomedical Genetics
 
 
M.Sc
M.Sc. Biotechnology
 
 
M.Sc
M.Sc. Biotechnology (5 Year Integrated)
 
 
M.Tech
M.Tech. Biotechnology
 
 
B.Tech
B.Tech. Chemical Engineering
 
 
B.Tech
B.Tech. Civil Engineering
 
 
M.Tech
M.Tech. Structural Engineering
 
 
M.Tech
M. Tech. Construction Technology and Management
 
 
B.Tech.
B.Tech. Computer Science and Engineering with Specialization in Bioinformatics
 
 
B.Tech.
B.Tech. Computer Science and Engineering
 
 
B.Tech.
B.Tech. Computer Science and Engineering with Specialization in Information Security
 
 
B.Tech.
B. Tech. Computer Science and Engineering with Specialization in IoT
 
 
B.Tech.
B. Tech. Computer Science and Engineering with Specialization in Data Science
 
 
B.Tech.
B. Tech. Computer Science and Engineering and Business Systems [In collaboration with TCS
 
 
M.Tech
M.Tech. Computer Science and Engineering with Specialization in Big Data Analytics
 
 
M.Tech
M.Tech. Computer Science and Engineering with Specialisation in Information Security
 
 
M.Tech
M.Tech. Computer Science and Engineering
 
 
M.Tech
M. Tech. Computer Science and Engineering – 5 year integrated [In Collaboration with Virtusa]
 
 
M.Tech
M. Tech. Computer Science and Engineering with Specialization in Data Science – 5 year integrated
 
 
M.Tech
M. Tech. Computer Science and Engineering with Specialization in Artificial Intelligence and Machine Learning
 
 
B. Tech.
B. Tech. Computer Science and Engineering with Specialization in Artificial Intelligence and Machine Learning
 
 
B. Tech.
B. Tech. Computer Science and Engineering with Specialization in Cyber Physical Systems
 
 
M. Tech.
M. Tech. Computer Science and Engineering with Specialization in Business Analytics (5 year Integrated)
 
 
B.Tech
B.Tech. Electrical and Electronics Engineering
 
 
B.Tech
B.Tech. Electronics and Instrumentation Engineering
 
 
M.Tech
M.Tech. Control and Automation
 
 
M.Tech
M.Tech. Power Electronics and Drives
 
 
B.Tech
B.Tech. Electronics and Communication Engineering
 
 
B.Tech
B. Tech. ECE with specialization in Biomedical Engineering
 
 
M.Tech
M.Tech. Automotive Electronics
 
 
M.Tech
M.Tech. Biomedical Engineering
 
 
M.Tech
M.Tech. Communication Engineering
 
 
M.Tech
M.Tech. Embedded Systems
 
 
M.Tech
M.Tech. Nanotechnology
 
 
M.Tech
M.Tech. VLSI Design
 
 
M.Tech
M. Tech. IoT and Sensor Systems
 
 
B.Tech
B.Tech Electronics and Computer Engineering
 
 
B.Sc
B.Sc. Computer Science
 
 
B.Sc
B.Sc. Multimedia and Animation
 
 
B.Tech
B.Tech. Information Technology
 
 
BCA
Bachelor of Computer Applications
 
 
M.Tech
M.Tech Software Engineering (Integrated)
 
 
MCA
Master of Computer Applications
 
 
B.Tech
B.Tech. Mechanical with Specialization in Automotive Engineering
 
 
B.Tech
B.Tech. Mechanical Engineering
 
 
B. Tech
B.Tech. Production and Industrial Engineering
 
 
M. Tech
M.Tech. Automotive Engineering
 
 
M. Tech
M.Tech. CAD / CAM
 
 
M. Tech
M.Tech. Manufacturing Engineering
 
 
M. Tech
M.Tech. Mechatronics
 
 
M. Tech
M. Tech. Mechanical Engineering with Specialization in Cyber Physical Systems
 
 
M. Tech
M. Tech. CSE in Cyber Physical Systems 
 
 
B.Com
Bachelor of Commerce
 
 
B.Sc
B.Sc. Agriculture (Honours)
 
 
B. Tech
B. Tech Fashion Technology
 
 
B.Sc
B.Sc. Fashion Design
 
 
B.Des
B. Des. (Industrial Design)
 
 
M.Des
M. Des. (Industrial Design)
 
 
B. Arch
Bachelor of Architecture
 
 
BCA
Bachelor of Business Administration
 
 
MBA
Master of Business Administration
 
 
BA LL.B
BA LLB (5 years)
 
 
BBA LL.B
BBA LLB (5 years)
 
 
B.Sc
B.Sc. Catering and Hotel Management
List of schools

University Name
VIT University, Vellore
College Status
Recognized
Address
VIT, Vellore Campus, Tiruvalam Rd, Katpadi, Vellore, Tamil Nadu 632014
Website
https://vit.ac.in/schools