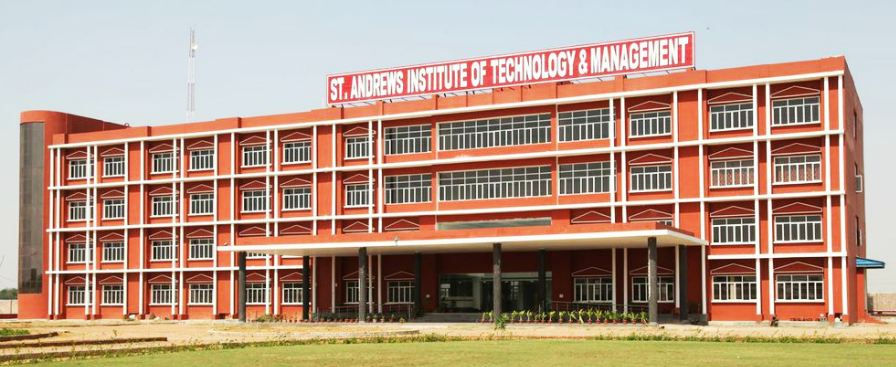 St. Andrews Institute of Technology & Management is located in the industrial hub of India Gurgaon, Delhi (NCR). It is spread across 22 acres of lush green campus with the globally acknowledged infrastructure. The Classrooms are centrally air-conditioned equipped with modern technology for teaching.
Good Education encompasses instilling Moral, Aesthetic, Athletic and Intellectual values in the citizens of tomorrow. St. Andrews is the best place to achieve this kind of education. Affiliated to MDU and approved by the All India Council for Technical Education (AICTE), this college has lush green surroundings which provides a conducive environment for the students to grow not only as good Engineers / Managers but as world class citizens too. The Teaching and Non-Teaching Staff of the Institute is a blend of Senior Experienced and Young, Dynamic faculty members devoted to the noble cause of education. We, at St. Andrews look towards creating a workforce that lives and breathes the same spirit. We give importance to Practical Training, Self-Learning, Coupled with Discipline, which attracts students from overall India.
Vision:
To be a Leading Centre of Excellence in the field of Engineering and Management by providing students an outstanding platform that aids the quest for knowledge, inspires leadership and brings out their best. To emerge as a front-running centre of excellence that fosters thought leadership and grooms dynamic professionals in the best possible way.
Mission :
Making the Institute emerge as the alma mater for students that broadens horizons, inspires and empowers them to dream the impossible and yet keeps them grounded so as not to lose touch with reality. We believe in upholding the true culture of the educationist, being the quintessential learner - incorporating new ideas to add a new dimension to holistic learning and motivating students to realize their potential and capitalize on their strengths. Our mission is to empower the new generation of truly global Indians to enrich thought & lives.
COURSE:

University Name
Maharshi Dayanand University, Rohtak
College Status
Recognized
Address
St. Andrews, 9th Avenue, IP extention, Patparganj Delhi-110092