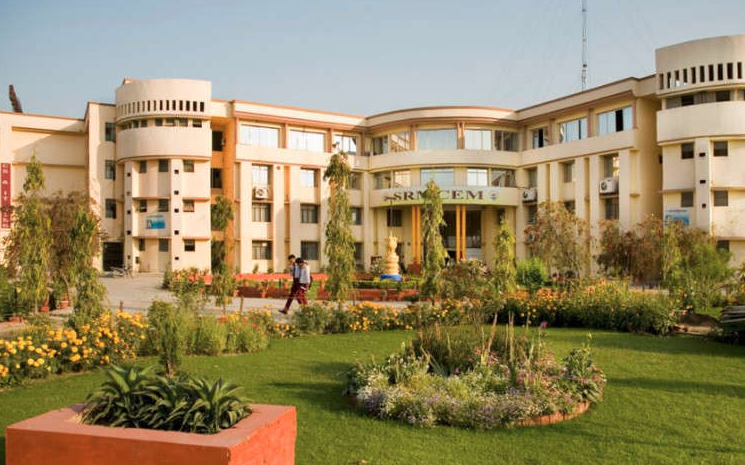 Shri Ramswaroop Memorial University (SRMU) is a private university located in Uttar Pradesh, India.
The university was established in 2012 and is governed by two IIT Gold Medalists, Mr. Pankaj Agarwal and his wife Mrs. Pooja Agarwal. The Institute offers a wide spectrum of choice for the students to choose undergraduate, post graduate and Doctoral programs in Engineering (Mechanical, Civil, Electrical, Electronics & Communication, Computer Science),Bio-Technology & Bio-Sciences, Management, Commerce, Economics & Computer Applications, Journalism & Mass Communication, Legal studies, Basic Sciences and Humanities, Education & Research. SRMU is proud of its excellent faculty who are from leading central universities and leading institutes such as IIT and IIM, and so on. Constant interaction with stalwarts in the industry and caring management contributes to creative pedagogy and syllabus revision, rendering the courses meaningful and growing jobs. SRMU has made a major advance in patents, although it is a young trust.
VISION
To be a globally recognized place of teaching-learning, doing research and preparing human capital with ethical, social and ecological sensibilities, thereby contributing to national prosperity.
MISSION
To build upon existing programs and courses and initiate new programs and courses in tune with the emerging national and global trends and relevant to local needs. To serve students of different backgrounds and abilities, through effective teaching-learning experiences in order to develop lifelong learning skills and leadership qualities. To inculcate wisdom, professional ethics, value system and social sensibilities in the students. To promote creativity, innovation and entrepreneurship among students for the betterment of the society. To collaborate with national and international institutes of eminence in research and consultancy. To create an academic ambience with physical and learning infrastructure and establish a clean and green campus.
Courses Offered by Shri Ramswaroop Memorial University
UG Programmes
B.Sc. Hons. (Agriculture)
B.Tech in Agriculture Engineering
B.Sc in Hospitality & Hotel Administration
BHMCT
B.Sc (PCM)
BBA in Human Resource 
BCA
B.A (BJMC)
B.Tech. Mechanical Engineering
B.Tech Civil Engineering
B.Tech CSE
B.Tech. Electrical Engineering
Bachelor of Education (B. Ed.)
Bachelor of Pharmacy
B. Sc (Biotechnology)
BBA LL.B. (HONS.)
PG Programmes:
M.Sc (Chemistry)
M. Sc. (Physics)
M. Sc. (Biotechnology)
M. Sc. (Microbiology)
MBA 
MCA 
M.SC 
M. Tech in Energy Engineering
M.Tech. Manufacturing & Industrial Engineering
M. Tech Construction Engineering and Management
M.Tech. Power System Engineering
MBA in Human Resource Management
M.Sc. Pharmacology
M.A Psychology
Master of Education (M.Ed.)
Institutes

University Name
Shri Ramswaroop Memorial University - [SRMU], Lucknow
College Status
Recognized
Address
Shri Ramswaroop Memorial University Village - Hadauri, Post - Tindola, Lucknow-Deva Road, Barabanki, Uttar Pradesh - 225003
Website
https://srmu.ac.in/