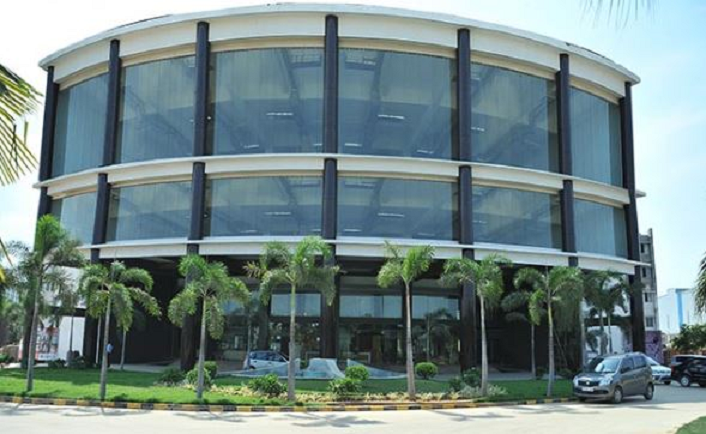 Saveetha Engineering College (SEC) was established in 2001, by the Founder Chairman Dr. N. M. Veeraiyan, a committed and dedicated Medical Professional. SEC has a total strength of 4349 students in 12 UG courses, 8 PG Courses including MBA, MS by Research and Doctoral programs (PhD) in five Departments. National Board of Accredition NBA has Accredited 5 UG courses. Ranked 96 by NIRF- National Institute Ranking Framework for the academic year 2017-18 among all IITs, Central, State and Private Institutions in India. Awarded 'A' GRADE with a high score of 3.19 on a scale of 4 by the National Assessment and Accreditation Council (NAAC) for 5 Years. SEC awarded AUTONOMOUS status by the UGC from the academic year 2019-2020. SEC is recognized as a Scientific and Industrial Research Organization (SIRO) by the Department of Scientific and Industrial Research (DSIR), Government of India. Five Research Centres recognised by Anna University MoU's with Reputed Academic Institutions in India and Abroad
Saveetha School of Engineering (SSE) Chennai, is a private institution, affiliated to AICTE, established in 2005, located in the Chennai city of Tamil Nadu state. It is accredited NAAC 'A' Grade and got recognition by 43rd rank in NIRF. SSE is one of the 80 universities around the globe which get the IET-UK Accreditation. The college promises for being one of the best engineering colleges in India by keeping high standards of quality education in engineering fields. Under Saveetha School of Engineering Admissions 2019, the college offers some full time Undergraduate, Postgraduate and Doctoral programs in many departments. Each department is enriched with experienced, dedicated and knowledgeable faculty members. With extra-ordinary infrastructure facilities and with innovative teaching methods like MILA, Flipped Classes, etc., SSE provides the best platform for the students to excel in their academics.
VISION :
To be and to be recognized for setting the standard of excellence in engineering education and high quality research in Science and Technology.
MISSION:
To promote academic excellence; widen intellectual horizon; self-discipline and high ideals for the total personality development of the individual.
DEPARTMENTS
UG COURSES
B.E. / B.Tech (Full Time 4 Yrs / Lateral Entry)
B.E. Agriculture Engineering
B.Tech Artificial Intelligence and Data Sciences
B.E. Bio Medical Engineering
B.E. Civil Engineering
B.Tech. Chemical Engineering
B.E. Computer Science and Engineering
B.E. Electronics and Communication Engineering
B.E. Electrical and Electronics Engineering
B.E. Electronics and Instrumentation Engineering
B.Tech. Information Technology
B.E. Mechanical Engineering
B.E. Medical Electronics
PG COURSES 
M.E. (Full Time 2 Yrs / Part Time 3 Yrs)
M.E. - Computer Science and Engineering
M.E. - Software Engineering
M.E. - VLSI Design
M.E. - Embedded systems
M.E. - Applied Electronics
M.E. - CAD & CAM
M.E. – Communication & Networking
MBA - Master of Business Administration
RESEARCH COURSES
Computer Science & Engineering
Electronics & Communication Engineering
Electrical & Electronics Engineering
Mechanical Engineering
Physics

College Status
Recognized
Address
saveetha nagar, Thandalam - Perambakkam -Thakkolam Rd, Tamil Nadu 602105
Website
//www.saveetha.ac.in