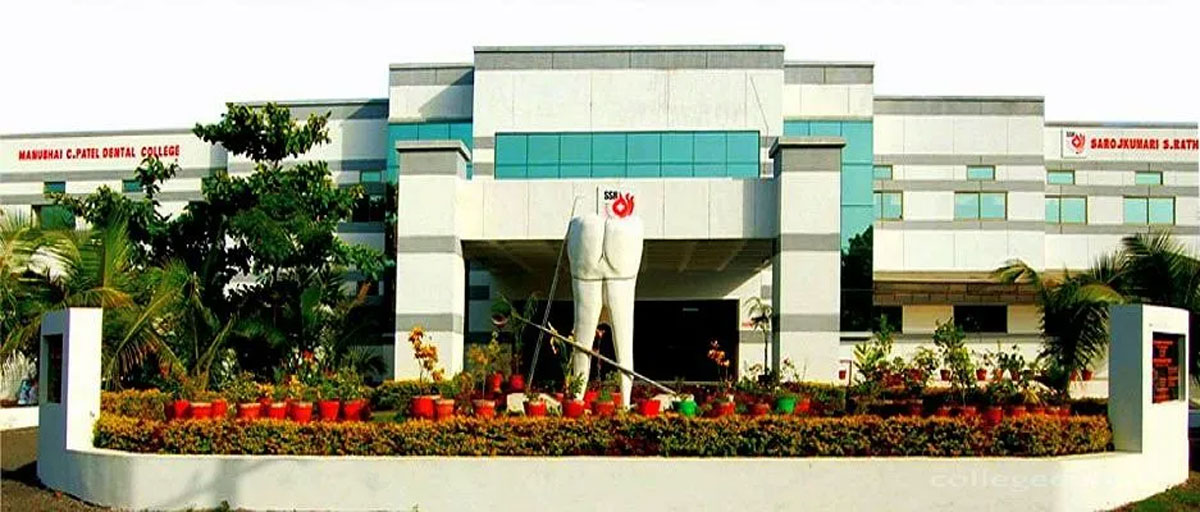 Manubhai Patel Dental College and Dental Hospital and SSR General Hospital, Vadodara is a dental college located in Gujrat. It is affiliated to Bhavnagar University is approved by Dental Council of India. The college has a private management. Established in 2000, it offers a five year course in Bachelor of Dental surgery (B.D.S). The college provides good infrastructure facilities to the students. It has spacious classrooms, well-stocked library, Dentures workshop, well-equipped laboratories and clinical dental departments. It also provides hostel facility for both boys and girls which would be fruitful for the students who live outside Vadodara city. The town and the Institution are well connected by train and bus and also, many food joints and tourist places in the city enable students to go for a hangout and refresh themselves of their hectic schedules and enjoy themselves.
Manubhai Patel Dental College was Established in the year 2000.  It is based in 6.21 acres modern campus in the heart of Baroda (Vadodara) city. MPDC is proudly recognized as the finest and most preferred Dental College in the State of Gujarat.
Manubhai Patel Dental College, Hospital & ORI (a.k.a MPDC) is recognized as an affiliated instituition and has received full recognition from Ministry of Health and Family Welfare, Govt. of India and Dental Council of India (DCI).
Manubhai Patel Dental College is affiliated to Maharaja Krishnakumarsinhji Bhavnagar University, Bhavnagar. MPDC is also attached the the Govt. Medical College of Baroda (MS University)
MPDC is conducting Bachelor of Dental Surgery (BDS) ,Master of Dental Surgery (MDS) and other diploma and certificate courses. More than 600 Dental Surgeons have graduated from MPDC in the last 15 years.
Dental surgeons who graduate from MPDC are amongst the finest and most sought after dental surgeons across the World.

Establishment Year
2000-01
University Name
Maharaja Krishanakumarsinhji Bhavnagar University
College Status
Recognized
Permission Date
22 Jul 1997
Address
Vishwajyoti Ashram, Nr. Vidyakunj School, Munjmahuda,Vadodara,Gujrat,390011
Website
http://www.mpdentalcollege.edu.in/