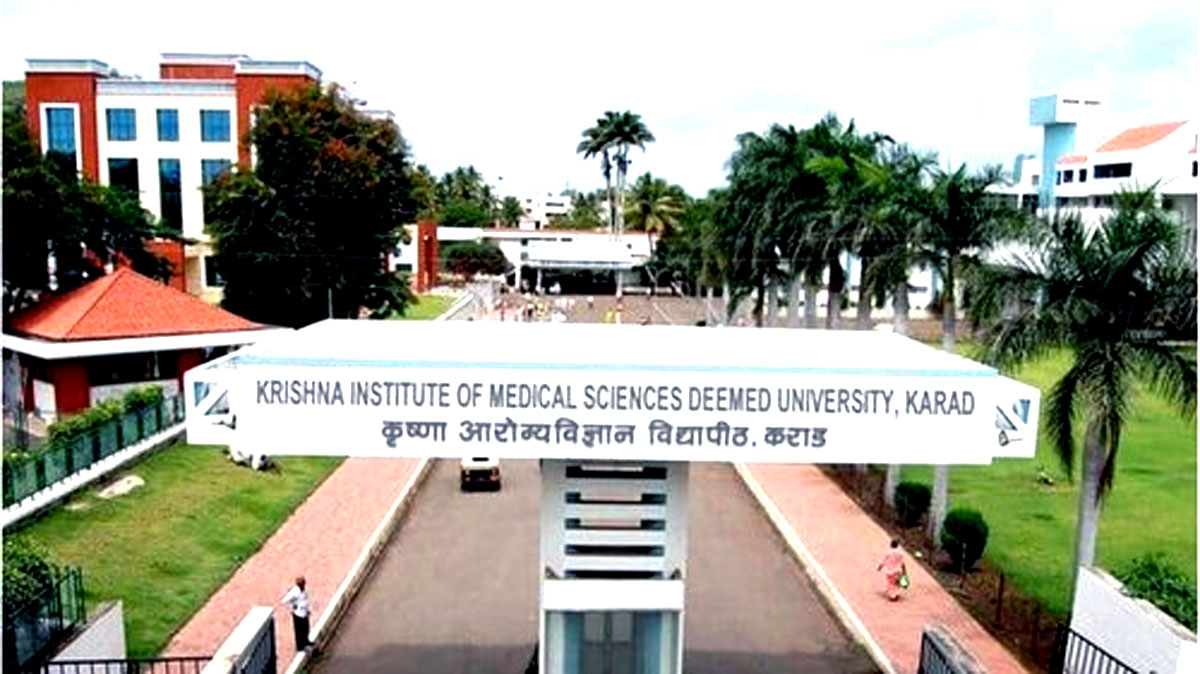 KRISHNA INSTITUTE OF MEDICAL SCIENCES "DEEMED TO BE UNIVERSITY", KARAD
Krishna Institute of Medical Sciences "Deemed To Be University", Karad is located in Western Maharashtra, India against the background of mountains and valleys. The green, eco-friendly campus is spread over 55.24 acres and is well connected by rail, road & air.
The constituent faculties of the Institution include Medical, Dental, Physiotherapy, Nursing & Allied Sciences (Microbiology, Biotechnology, Krishna Institute of Pharmacy).
Several new postgraduate and post doctoral programs have been introduced in addition to purpose oriented vocational courses, value added courses and fellowships in emerging, advanced and interdisciplinary areas.
It has state-of-the-art museums with large collection of specimens and models. The Lead Referral Laboratory is the first of its kind in Maharashtra state, which was ranked the first amongst 40 such centres in India. The well equipped Molecular & Human Genetics Laboratory is a feather in the cap.
The teaching hospital is 1125 bedded multi specialty tertiary care hospital with facilities for Critical Care, Endoscopic Surgeries, Dialysis, Cardiology, Cardio-vascular-thoracic-surgery, Oncology, Urology, Neuro surgery, Plastic surgery, Oral and Maxillofacial Surgery and a recognized Renal Transplant Unit. It has fully equipped major operation theatres, minor theatres, labour rooms, blood bank accredited by NABH, radio-diagnosis and radiotherapy, computerized medical records, counseling services etc. There are separate intensive care units like Medical, Surgical, Coronary care, Pediatric, Neonatal, Respiratory and Obstetrics. The neonatal ICU is recognized by Neonatology Forum of India. The radio-diagnosis department has facilities for MRI, color doppler, mammography, DSA etc. It also actively participates in national healthcare programs and various extensions & outreach community programs initiated by the Institute.
Experienced faculty, secure and spacious hostels, a sports complex, various extra-curricular activities have succeeded in attracting the students from all over India and from USA, UK, New Zealand, Middle East countries, Sri Lanka, Canada, Mauritius and many other countries.
Vision
    
To emerge as a centre of excellence following an interdisciplinary, innovative and quality centric approach that encompasses best evidence based higher education and generates refutative and translational research and offers affordable health care access for the benefit of mankind.
Mission
    
Krishna Institute of Medical Sciences "Deemed To Be University" shall prepare competent and compassionate professionals with sound knowledge and excellent skill through quality education based on a competency model that inculcates scientific temper, moral and ethical values.
It shall foster interdisciplinary research that will generate meaningful outcomes for the community and nation.
It shall provide quality health care to the rural and needy and bring about holistic development in the adjoining rural areas.
It shall seek collaborations with national and international institutions of reputes and provide a transparent and accountable governance system.

University Name
Krishna Institute of Medical Sciences University (Deemed), Karad
Annual Intake (Seats)
200
Permission Date
09.05.2019 (recognized for increase)
Address
Karad Karad Dhebewadi Road, Near Pune-Bangalore Highway, No.4, Karad-415110, Dist. Satara (Maharashtra) Karad
Website
http://www.kimskarad.in/