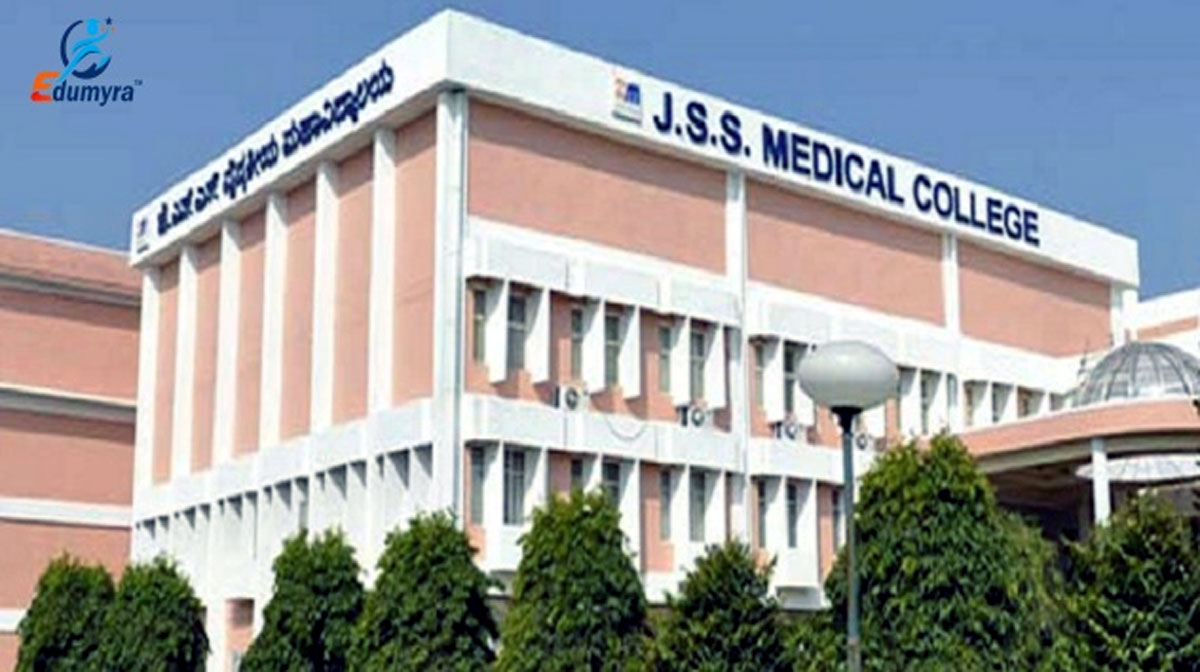 JSS Academy of Higher Education & Research, formerly known as JSS University, is a Deemed to be University located in Mysuru, Karnataka. It was established in 2008 under Section 3 of the UGC Act 1956 and is part of JSS Mahavidyapeetha, which runs a variety of educational institutions. This deemed-to-be university is recognized by MHRD and accredited by NAAC with A+ Grade (3.47 CGPA). JSS AHER has been graded as Category-I Deemed-to-be University by UGC in the Year 2018.
The Deemed to be University has been focusing on teaching, research and health services since its inception. Under the leadership and gracious Patronage and Blessings of His Holiness Jagadguru Sri Shivarathri Deshikendra Mahaswamiji, the Chancellor of JSS Academy of Higher Education & Research, Pro Chancellor, Dr. B.Suresh, a noted multifaceted leader of repute and Vice Chancellor, Dr. Surinder Singh , an acclaimed Physician, the Deemed to be University has made great progress in grooming graduates, postgraduates, and Ph.D. researchers by providing effective value based education across our institutions by focusing on overall development of an individual through state-of-art facilities to make the learner a useful citizen to the society.National Institutional Ranking Framework (NIRF), MHRD ranked JSS Academy of Higher Education and Research 37th rank among 957 Universities in India in 2018JSS Academy of Higher Education & Research has been awarded QS 4-Stars rating in excellence by QS - Quacquarelli Symonds from the UK in 2018.
It is also the first institution in the state of Karnataka to receive this recognition and first to receive 4 Star among the Health Science based Institution in India.
Department of Higher Education, Government of Karnataka rated JSS Academy of Higher Education & Research, Mysuru as a four-star institution with a Score of 711 out of 1000 and was first among Young Universities in Karnataka in 2017.Today, more than 600 faculty members instruct approximately 2000 undergraduate and graduate students and around 300 research scholars. JSS AHER generous financial aid program ensures that talented students from all economic backgrounds can afford quality education. A vast range of educational, cultural, social and extra-curricular activities are available to students, faculty and staff. Campus life activities are built around the concepts of encouraging each member to express his or her talents and to respect all members of our pluralistic culture.
JSS AHER has also played a pivotal role in ensuring that the students and faculty benefit through wide-ranging international tie-ups. The institutions have collaborations with reputed universities, industrial and research organizations. These include International collaboration with La Trobe University- Australia, Khon Kaen University -Thailand, University of Southern Nevada and Long Island University - USA, AIMST University – Malaysia, Howard University - Washington DC, University of Illinois at Chicago - USA, AlfaGene Biosciences Inc – USA, National Institutes of Health - USA, Oman Medical College – Oman, etc.
A wide range of international study and research opportunities are available to both undergraduate and graduate students, including the chance to conduct research abroad. JSS AHER also supports the students interested in individual or group curricular projects abroad. International alumni groups help the JSS AHER to build global networks. Multidimensional partnerships with faculty and institutions around the world help foster the flow of ideas. Faculty members collaborate with colleagues throughout the world to carry out important, cutting-edge research under various scholarships.Accreditation Council for Pharmacy Education (ACPE), USA certification for our Pharm D programme and accreditation from National Board of Accreditation (NBA) and ISO-9001:2015 certification reflects on the quality education system both nationally and internationally. TIFAC-CORE in herbal drugs approved by DST, BA/BE centre approved by DCGI, Drug Testing Laboratory approved by State Government, Faculty Training Centre, Industry Institution Interaction Cell, Entrepreneurship Cell approved by AICTE are the active centres of research. Centre for Advanced Drug Research and Testing (CADRAT) of the pharmacy college is recognized for its expertise in industrial/academic consultancy that provides opportunity for problem-based learning.
JSS AHER has a sharp focus on attracting the best researchers and research scholars by providing them with comprehensive support and motivation. Internationally renowned academicians, management experts, corporate consultants and entrepreneurs have always been associated with us helping us make great strides in research as well as enhancing the employability of our students. Industry interaction at JSS AHER is of a high degree, thanks to its world-class Advisory Board consisting of top-notch leaders in academics and research from across the world. Our alumni as CEOs, Entrepreneurs, and leading academicians/researchers are our brand ambassadors both nationally and globally.
Outreach programs inculcate the social and professional responsibilities while personality development programs, sports, cultural and literary activities facilitate holistic development of students.
Thus, JSS Academy of Higher Education & Research cater to Medical, Dental, Pharmacy, Life sciences and Health system management professionals with knowledge, skills and competencies at global standards with imbibed core values of respect, professionalism, leadership and social responsibilities to meet the health care needs of mankind. The JSS institutions have had a long-standing legacy in advancing education with both the preparation of educators and the advancement of research and scholarship. Renowned as a destination of learning, research and service the reputation of JSS Academy of Higher Education & Research has become synonymous with quality education in India and abroad.
JSS AHER has also broadened its physical boundaries through overseas campuses and centres. Spanning 3 international locations, these venues enhance opportunities for collaboration with universities, research institutes, and cultural organizations abroad; meet the needs of a growing number of faculty and students for research support and other opportunities; and engage alumni throughout each region.JSS AHER embraces the challenges of the 21st Century by building new bridges across old boundaries. These bridges include new educational programs and interdisciplinary studies, strategic partnerships with private and public R&D centres that pool resources and promote innovative research and new international relationships.

University Name
JSS Academy of Higher Education & Research, Mysuru
College Status
Recognized
Annual Intake (Seats)
200
Address
JSS Medical College, Sri Shivarathreeshwara Nagar, Bannimantap Mysuru – 570015 (Karnataka) Mysore
Website
https://www.jssuni.edu.in/JSSWeb/WebHome.aspx