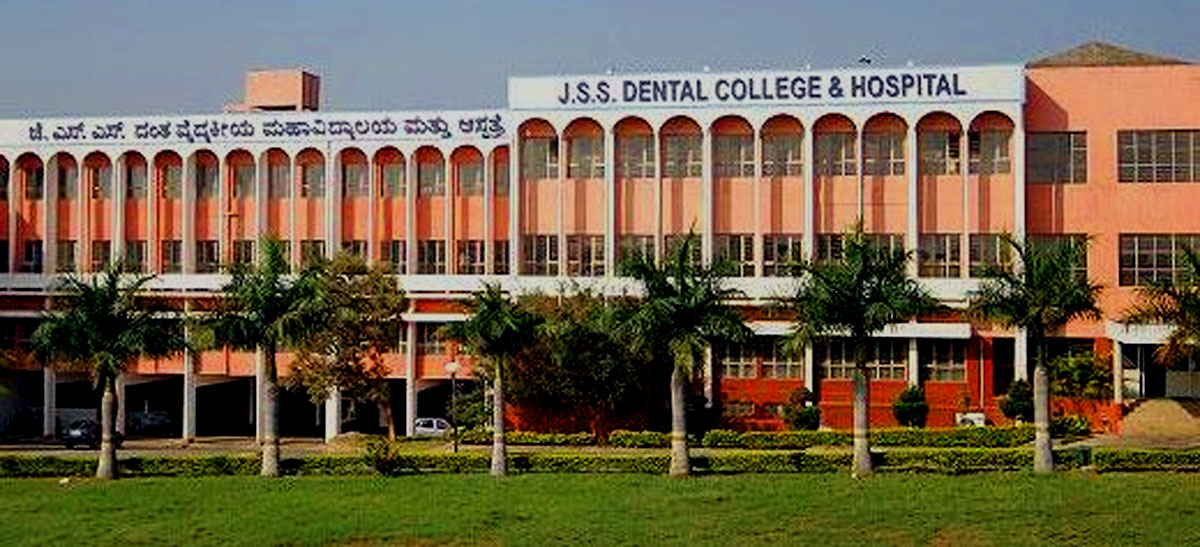 JSS Dental College & Hospital, Mysuru has committed itself to become a center for excellence in Dental Education and a world leader in the field of Dental Sciences including hospital practice with the objective of strengthening the health care of the country. `JSS Dental College and Hospital` is located in the city of Mysuru, Karnataka State, South India. Mysuru is known for palaces and gardens and is about 150 kms from Bengaluru. Easily reachable both by roads and railways. The Dental College was established in 1986-87 and is at present conducting BDS and MDS courses in Nine special divisions, and Post Graduate Diploma in five specialities.
The College is recognized by both the Dental Council of India and the Government of India. It is affiliated to the JSS Academy of Higher Education & Research (JSSAHER), Mysuru from 2008-09. Earlier it was affiliated to the Rajiv Gandhi University of Health Sciences, Karnataka, from 1996-97 and it was affiliated to the University of Mysore from 1986-87. The college is located in a JSS Medical Institutions Campus spread across over 38 acres. 5 acres of the total land is exclusively demarcated for the Dental College & Hospital. Separate hostel facilities are provided for both the boy and girl students.
Vision
    To be a Leader in Education, Training in Dental Sciences, Fostering Professionals recognized for their Excellence & Patient Care.
Mission
    To impart quality Dental Education and develop exemplary oral health care professionals.
    To nurture Research that contributed towards advancement of knowledge and innovation in Dental Sciences.
    To provide comprehensive oral health care that contributes to the well-being of the society with an emphasis on underserved population.
    To foster lifelong learning that supports professionals to keep pace with advances in Dental Sciences.

Establishment Year
1986-87
University Name
Jagadguru Sri Shivarathreeshwara University
College Status
Recognized
Annual Intake (Seats)
100
Permission Date
02 Mar 2020
Address
JSS Medical Institutions Campus Sri Shivarathreeshwara Nagara Mysuru – 570 015 Karnataka
Website
https://www.jssuni.edu.in/