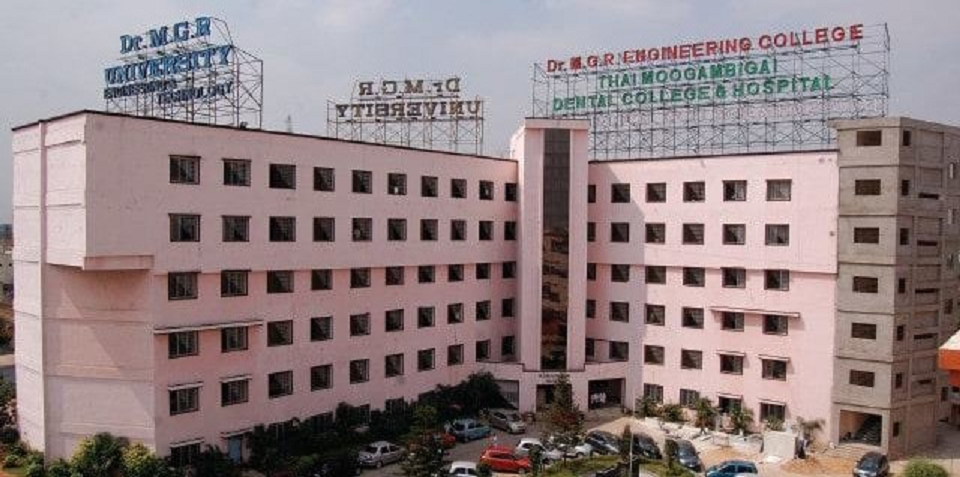 M.G.R. Engineering College was founded in 1988, and the Thai Moogambigai Dental College was started in the year 1991. Both the colleges acquired Deemed University status in 2003 as Dr. M.G.R. Educational and Research Institute as per the orders of the University Grants Commission, New Delhi and the Union Ministry of Human Resources and Development, Government of India, New Delhi.
Faculties and Departments in Dr MGR University
    Faculty of Engineering & Technology
    Faculty of Dental Surgery
    Faculty of Medical and Allied Health Sciences
    Faculty of Humanities & Sciences
    Faculty of Management Studies
    Faculty of Architecture
    Faculty of Computer Applications
    Faculty of Law
    Faculty of Pharmacy
    Faculty of Nursing
    Faculty of Physiotherapy
    Faculty of Hotel Management
    Faculty of Education
Courses offered in Dr MGR Educational and Research Institute
The University offers the following courses as mentioned below:
Faculty Programme Offered
Faculty of Engineering & Technology
    
Computer Science and Engineering
Information Technology
Electrical and Electronics Engineering
Mechanical Engineering
Electronics & Communication Engineering
Instrumentation and Control Engineering
Bio-Technology
Civil Engineering
Chemical Engineering
We offer Specialized courses
B.Tech. -Information Security and Digital Forensics (in Association with COEDF)
B.Tech.( CSE) with specialization in Data Science and AI (in Association with IBM)
M.Tech in Information Security and Cyber Forensics
Dr. M.G.R. Medical  University  has following undergraduate courses
    Indigenous Medicine
    Allied health profession
    MBBS (medicine)
    Nursing
    BDS (dentistry)
VISION
To provide for contemporary knowledge delivery of global standards, excellence in knowledge creation in emerging areas and mutually rewarding university - societal interaction.
MISSION
Our Mission is to make the Institution as a Resource Centre for Higher Level Teaching - Learning Process, in the fields of Engineering, Dental Surgery, Medicine, Allied Health Sciences, Humanities & Sciences, Architecture, and Management & Education.
We wish to impart relevant training and education to the youth to make them technically qualified, practically competent and skilled human resources, to suit the needs and demands of the modern industries, business or research and development organizations.
We also wish to promote ethical values and encourage creative ideas among the younger generation and thereby to develop their entrepreneurial skills which will ultimately benefit

University Name
Dr.MGR University
College Status
Recognized
Address
Dr. M.G.R. Educational And Research Institute Periyar E.V.R. High Road, Vishwas Nagar, Maduravoyal, Chennai, Tamil Nadu 600095
Website
https://www.drmgrdu.ac.in/department.php?academic=1